Updated: Jan 27
We're big fans of comforting winter warmers and this is a cracker, give it a go or come join us and we'll make it for you!
Welsh rarebit (serves 2-4)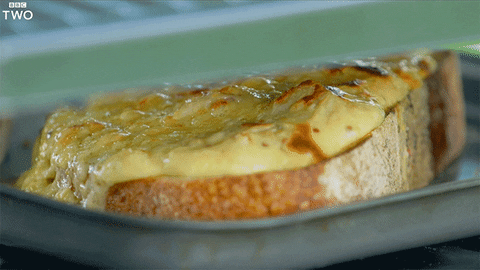 You will need...
250g grated, strong cheese
1 tablespoon butter
2 teaspoons Worcestershire sauce
1 tablespoon of English mustard
2 teaspoons flour
Shake of pepper
6 tablespoons beer, Guiness or milk (Any stout will do and don't be shy)
4 slices of baguette toasted on 1 side only - we make our own (see baguette recipe here)
So.....
1. Put the cheese, butter, Worcestershire sauce, mustard, flour and pepper into a saucepan.Mix well and then add the beer, Guiness or milk to moisten. Try not make it too wet!!
2. Stir over a gentle heat until all is melted and you've hopefully made a reasonably thick mix, leave to cool a little.
3. Meanwhile grill the bread on one side (we like to rub raw garlic on toast when warm) and then spread the rarebit over the untoasted side.
4. Pop back under the grill until nice and brown and serve with an oily green salad.
Any questions give us a shout and enjoy!